An Angel in Hell
(Anděl v pekle)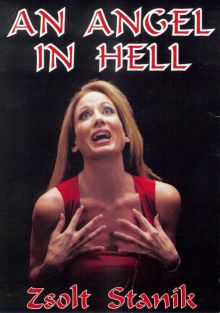 Název:
An Angel in Hell
Autor:
Zsolt StanĂ­k

---

Obálka:
Fastprint Publishing
Odpovědný redaktor:
Susan Cohen-Unger
Grafická úprava a sazba:
Fastprint Publishing
Vydal:
Fastprint Publishing, Peterborough, England
Jazyk:
anglickĂ˝
První vydání:
2010
ISBN:
978-184426-759-0
Ăšprava:
174 stran

---

Cena
viz nákup
>> nákup
O knĂ­Ĺľce
Po kladné čtenářské odezvě na svoji první knihu v angličtině Humour at its Best, vydává Zsolt Staník nyní druhou An Angel in Hell. Obsahuje 17 převážně humoristických povídek.Pro některé z nich čerpá autor náměty z běžných životních situací. Mezi ně patří například The Village Barber, Rabbit on Toast, The Balloon Clown, Dandelions on Snow, Sharing Jolanka.
Povídka Miss Tick je pokusem vyjádřit pocity tohoto lidmi nenáviděného roztoče při styku s okolním světem.
Další vycházejí čistě z představivosti autora, často absurdních.Takovými jsou Theatre for One Spectator, Work, ale i dvě rozsáhlejší Hollywood Contemplations a Everybody yearns for Světlana.
V povídce Hollywood Contemplations, se ZS snaží poukázat na skutečnost, že stáří nemusí být nutně smutné a že k dobré náladě může značně přispět humor a smích, které mohou někdy vycházet i ze ztřeštěných nápadů. Tak tomu je i v této povídce, kdy se bláznivý sen jednoho z důchodců přetváří za pomocí přátel na fiktivní příběh o natáčení úspěšného filmu, v němž jsou všichni hlavními aktéry.
Další, Světlanu by chtěl každý, se dotýká manželských vztahů. Představuje v ní člověka dvou tváří. Daří se mu přesvědčivě předstírat spokojené a bezproblémové soužití se ženou a přitom vést paralelně intimní život se svojí milenkou.
Zvláštní postavení v knížce má povídka An Angel in Hell - Betty,the story. Může sloužit jako příklad ženské síly a statečnosti. Na pozadí skutečného životního příběhu z poválečného období v Anglii a Skotsku, popisuje ZS statečnost a morální sílu dívky Betty při překonávání překážek, které jí život nastavuje.